Preview | 2021 Australian Open
Djokovic may be dethroned while Osaka has a shocking draw to contend with
By Stephen Higgins | 6 February 2021
Just over 12 months ago, Melbourne was the centre of the world's attention as residents were instructed to stay indoors, minimise activity and wear masks. Today, it's one of the few places on the globe where faces need no covering.
From rampaging wildfires and appalling air quality to a global beacon of hope, it's been quite a year for the city. In a period of dreadful suffering for the majority, Australians should be very proud of their response to Covid-19.
The first major of 2021 will kick off with the luxury of spectators in stands. Thanks to the enormous efforts of Tennis Australia and the city, allied with diligence from most players, we can have a fortnight to enjoy on the courts.
Most of the top names navigated through restrictions and quarantines to make it to Melbourne Park. The most noteworthy exceptions include six-time champion Roger Federer, 2011 winner Kim Clijsters, and five-time finalist Andy Murray.
With young children in the mix, Federer and Clijsters decided to skip the event rather than spend a long period away from their families. Meanwhile, Murray was the unlucky victim of a positive Covid-19 test just before his flight Down Under.
They will be a loss to the tournament but with nine of the top 10 from each tour on show, there will be plenty of stars on display.
Men's Draw
Rod Laver Arena is the fiefdom of Novak Djokovic and the world no.1 is naturally favoured to capture a ninth Australian Open singles title.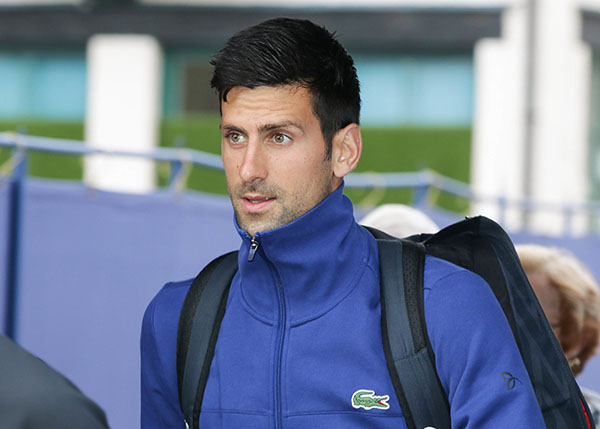 Last year, Djokovic survived an onslaught from Dominic Thiem in a tense five-set final. If he wants that 18th career major, the Austrian will probably have to be vanquished once again in the last four.
But even making that stage is not a certainty for the Serb.
2014 champion Stan Wawrinka (fourth round) and US Open runner-up Sascha Zverev (quarters) are potential opponents that should not be sniffed at. For a change, I don't think Djokovic is a sure thing this year.
On the other side of the draw, Rafael Nadal should be too strong in the early rounds...so long as his back holds up. The 20-time major winner skipped his ATP Cup matches in an effort to be fully ready for Melbourne.
Provided the Spaniard recovers, and makes the second week, there could be plenty of serious obstacles in his path. Alex de Minaur (fourth round), Stefanos Tsitsipas (quarters) and Daniil Medvedev (semis) would all cause the Mallorcan major problems, especially if he's short of fitness.
US Open champion Dominic Thiem is another contender that could have been blessed with an easier route to the final. Bar a mishap, the ever improving 27-year-old should at least find his way to the second week.
It then gets ugly in a hurry. To reach a second straight final, the Austrian may have to plough his way through Denis Shapovalov, Felix Auger-Aliassime or Diego Schwartzman in the quarters, before Djokovic in the last four.
Of the primary contenders, I think that Daniil Medvedev has the clearest route to glory. If he's playing at a reasonable level, I can't see the Russian falling before the quarter-finals. If (when) he gets there, I'd fancy the 24-year-old over the likes of Roberto Bautista Agut or Andrey Rublev. I can easily see Medvedev in the last four.
2019 semi-finalist Stefanos Tsitsipas has also been blessed with a decent draw and could well be the one to take advantage in the bottom quarter should Nadal fall.
Women's Draw
The world has changed so much since the 2020 Australian Open that I almost forgot that Sofia Kenin shocked the tennis world to win her first major there.
From a quarter-final cohort that included Ash Barty, Simona Halep and Petra Kvitova, it was the American and Garbine Muguruza that turned out to be the finalists.
Kenin almost repeated the trick at Roland Garros and she should be in the mix here, especially given her inviting draw. There is no one to fear in her section bar a confident turn from Jennifer Brady or Jo Konta. From there, Victoria Azarenka or Elina Svitolina may well stand in the way of a place in the last four. I think that Kenin will be quite content with that scenario.
World no.1 and home favourite Ash Barty comes in cloaked with excitement and pressure. At least she received a good draw. Bar a calamity, the 24-year-old should not exit Melbourne Park in the first week.
However, the streaky Anett Kontaveit could wait for her in the fourth round and the Estonian can blow very hot. From there, it may be Karolina Pliskova standing in the way of a spot in the semis.
2018 finalist Simona Halep has a reasonable section to start with but the spectre of Roland Garros champion Iga Swiatek looms large in the fourth round. That quarter also includes Serena Williams, Aryna Sabalenka and Elena Rybakina so anything could happen.
As for Naomi Osaka, the reigning US Open champion received a shocker of a draw. The Japanese may have to wade through Anastasia Pavlyuchenkova, Caroline Garcia and Ons Jabeur...just to make the second week!
From there, the 23-year-old could encounter Garbine Muguruza (fourth round), Petra Kvitova (quarters) and then a choice of Williams/Halep/Swiatek just to make the final. I'm not sure her run could be more brutal.