Thoughts On The 2021 Australian Open
Featuring Djokovic's ninth, Osaka's fourth and Karatsev's first
By Stephen Higgins | 21 February 2021
Determined Djokovic
It's awfully hard to beat Novak Djokovic in a major final these days. The world no.1 has won six of his last seven outings on the last day of a grand slam.
In Sunday's final, the world no.1 burst into form immediately and Daniil Medvedev struggled, and eventually failed, to keep up.
It was Australian Open victory no.9 for the 33-year-old, extending his all-time lead over Roger Federer and Roy Emerson to three.
In the coming weeks, Djokovic will also overtake Federer's record of 310 weeks at the summit of the ATP Rankings. As for the career grand slam tally, it's getting mighty close.
There are now 18 majors in Novak Djokovic's trophy cabinet, leaving him just two shy of Roger Federer and Rafael Nadal.
He turns 34 in May and you have to believe that he'll be around for another couple of years at least.
Two more Australian Opens would bring him level without any further success at his beloved Wimbledon. Bottom line, he will get there.
Prime Osaka
While the women's game remains fragmented, we have a clear leader on hard courts.
Naomi Osaka has now collected four grand slams - all on hard - and should capture many more so long as form and fitness hold.
I think this is her prime. Extremely calm on court, the Japanese is in accumulation mode after backing up her first, second and third major successes.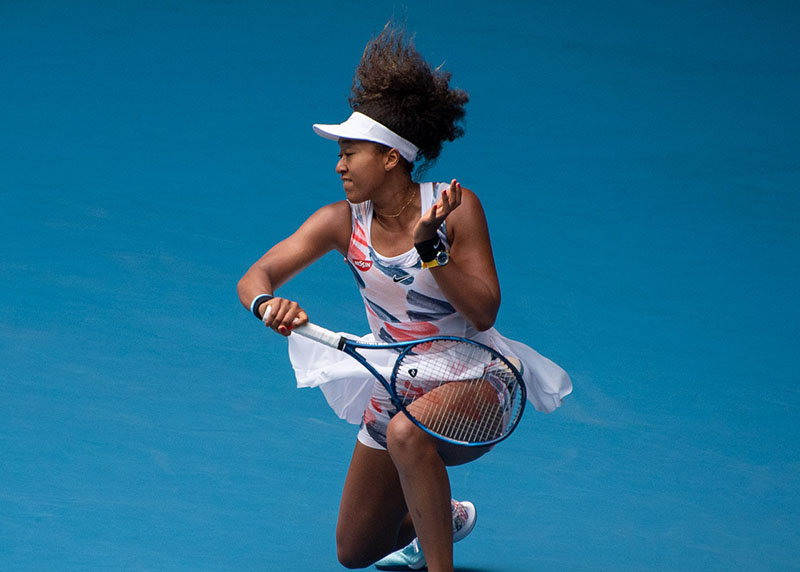 When she plays well, no one can live with those fierce groundstrokes and serve. And yet, there's still plenty to improve upon.
The 23-year-old rarely stops by the net and only utilises a backhand slice when in jeopardy.
If Osaka can add a bit more variety to her arsenal, she should finally crack the business stages of Roland Garros and Wimbledon.
Back To The Drawing Board For Daniil
No one will be more disappointed that we didn't get the expected final than Daniil Medvedev.
Given his electric form (20 match winning streak) and memories of his thrilling US Open final clash with Nadal, I expected a lung busting epic on Sunday that would be decided in a fourth or fifth set.
We got nowhere near that and the Russian will need to figure out why.
Of course Djokovic is one of the all-time greats, but a player of Medvedev's stature shouldn't have only four games to show for the last two sets.
Like Osaka, variety could be the spice of life and a potential major for Medvedev.
Look at how complete Dominic Thiem has become in order to battle the big three.
The Austrian has added a slice and improved around the net. Medvedev will probably have to do the same if he wants to nab one of the biggest prizes.
Enjoying The Next Jen
Jennifer Brady feels like a fresh breeze through the top of the women's game.
A bundle of energy with fierce strokes, the American was impressive as she backed up her Flushing Meadows showing with a deeper run at Melbourne Park.
If it wasn't for a player of Osaka's calibre in the final, Brady may well have brought a major back with her on the plane.
I feel the 25-year-old's fantastic attitude and big game will keep her in contention for hard court majors going forward. Much respect.
Aslan Certainly Roared
Most majors feature an interesting breakthrough or two...but you rarely get a story like Aslan Karatsev.
Ranked no.114 and playing his first ever grand slam, the Russian qualified for the Aussie Open and dispatched three top 20 players before Djokovic pressed pause.
A winners machine in Melbourne, it will be fascinating to see where Karatsev goes from here.
Muchova To Admire
The semi-final run of Karolina Muchova was a joy to behold.
I've been a fan of the Czech for sometime and it was wonderful to see her vast array of shots take a grand slam by storm.
The 24-year-old put an outstanding run together in Melbourne with victories over Jelena Ostapenko, Karolina Pliskova, Elise Mertens and the world no.1, Ash Barty.
I really hope she builds on this success and catapults into the top ten where her game belongs.
Also a word for the master of variety, Hsieh Su-Wei. It's a shame that we see few players like the Taiwanese but enjoy them while you can.
Serena Stalls
It was a tournament of early promise and late concern for the 23-time major winner.
While the early headlines concerned the supreme fitness and striking one-legged catsuit of Serena Williams, the denouement was more sobre.
The current iteration of Serena simply isn't good enough to beat this Naomi.
The question is: will she continue to get chances to reach Margaret Court's tally as the big 4-0 approaches?
Disappointments
The current situation is completely bonkers so I won't go too hard here.
While I think that the early exits of Dominic Thiem and Denis Shapovalov were mostly unfortunate, that may not be the case for Elina Svitolina and Karolina Pliskova.
The Ukrainian still struggles to take the initiative in rallies at grand slams while Pliskova has exited six straight majors in the first week.
Restart The Rankings
During commentary on Eurosport, Jo Durie mentioned how the WTA rankings are still frozen from the dawn of the pandemic.
Hence, Ash Barty remains no.1 despite her 11-month absence from the tour and Osaka's two majors.
I agree with Durie that the tour should restart the rankings as tournaments continue to be scheduled around the globe.
Osaka is the best player in the world and the rankings should really reflect that.
A Difficult Year Ahead
As Covid-19 and its variants continue to wreak havoc, we should prepare for a difficult and possibly halted 2021 season.
Even with the organisation and resources of Tennis Australia, hosting a grand slam during a pandemic is a nightmare.
Strict quarantines clearly impede player preparation and there is a disjointed feeling with spectators limited or banished.
It's a brutal time for us all and there is little clarity to how things will develop. Tennis provides a welcome relief from the drudgery but the cost may prove too high during the season.
I think we're in for a difficult season of hard choices. Hopefully things will be brighter when we get to the other side.